The High Value Woman FORMULA
Healing your anxious attachment, & becoming a HIGH value Woman...
Is the secret to transforming every single area of your life. Using science, this course will glow up your neural pathways, and update the reality that you are filtering in. Code in and activate a security within that you've never experienced before, a deep trust in love and others, whilst becoming outstandingly confident in yourself, your worth, and that the Universe FAVOURS you. You will step into IT Girl energy, a MAGNETIC match to the outstanding love, healthy, respectful relationships, and truly THE best ever life.
ENROL HERE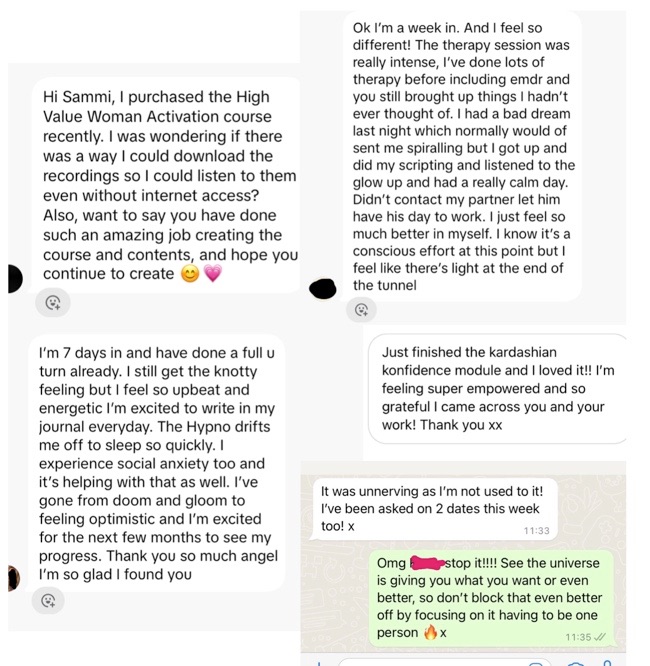 Worthy Woman Deep Transformation
To have a different life, you need to become a different Woman, from your internal concepts, narratives, and beliefs. To experience everything you dream in a relationship, and your life, you must activate a high level of self worth. THE high value identity. To get there we don't just do surface level work, you will be taken through the only therapy that changed me, and my life. That gets my 1:1 clients insane results. You will uncover how you got to be who you are now, with an identity that is attracting in exactly what you don't want. When this is understood, and updated, your life will be changed forever. You will never be the same Woman again. 
You Are THE Manifestation
Your life is a direct mirror reflection to who YOU are being internally. I will take you through 5 in-depth and exclusive training modules, plus my activation formula, that when applied daily, will support you in living a life beyond what you dream possible. With subconscious GLOW UP reprogramming tools, breath work, and a very powerful evening hypnosis to activate THE high value identity. All along you needed to wire your system into feeling profoundly safe, with a very high self esteem, and trust that love is all around you. Become a magnet to love, adoration, the best ever treatment, alongside manifesting your best ever life. How you view yourself, and expect life to be, will be confirmed into your reality.
Is the course re-fundable?
I'm a busy person is this course for me?
Can I replace professional care with this course?